stainless steel kitchen equipment and other stainless steel works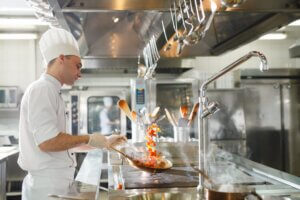 Mainly we are providing stainless steel kitchen equipment but our range of services from the kitchen to the dining area, and we have touched on many more wide range of fields without stopping there.
Stainless Steel Kitchen Equipment
Our main service is stainless steel kitchen equipment, but we will continue to help you with all types of stainless steelwork.
Standard & Custom made High Pressure Gas Burner
A fast and high heat is essential for true wok cooking, Silver Tech's popular high pressure gas burner wok ranges have turbo-like heat and are specially designed for intense wok cooking. It comes complete with a 1.8m stainless steel braided hose and high pressure POL regulator. 
Readymade and Custom Stainless Steel Sink Fabricator
Silver Tech's commercial sinks are manufactured of stainless steel, grade 304 stainless steel and meet or exceed quality standards. Each sink is hand fabricated and welded, rather than drawn,to ensure the integrity of the steel. 
BBQ Grill & Kottu Cooker Range fit to your exact requirement
Silver Tech's has many different sized grills to choose from. From smaller adjustable grills to larger pipe grills, we're sure to have one that will fit your needs. We also have custom BBQ grills for sale to fit any specific request.
commercial Kitchen extract canopy hood & Duct Line
All our canopies are made entirely of 1.2mm stainless steel and are manufactured to the highest standards & quality. We manufacture wall mounted and island type canopies and we also manufacture dishwasher/condenser type canopies.
Stainless Steel Commercial Chicken Roasting Machines
We at Silver Tech fabricate & manufacture gas chicken roasting machine for your commercial requirement. You can place your order by calling or emailing us. We will give you the 1 year guarantee on the chicken roast machine.
Stainless Steel Kitchen Cabinets Pantry Cupboards
Easy to maintain and keep clean, stainless steel pantry cupboards and countertops and kitchen racks are catching the eyes of home-owners who are looking for something that has a longer life span and gives their kitchen an elegant tailored look. 
Stainless Steel Bain Marie Food Display
Our electrical operated stainless steel Bain Maries, are custom built according to your specification & sizes. Ideal for Take Away, Food Courts, Bakery, Small Hotels, Hotels, Meat Shops, Cake Shops, self-serve buffets and restaurants
Readymade and Custom Stainless Steel Tables & Chairs
Shop readymade or custom stainless steel work tables. We manufacture & fabricate range of stainless steel tables. 
Stainless Steel Hospital Trays & Trolleys
Pioneers in the industry, we offer Stainless Steel Hospital Trays, Trolleys such as Mopping Trolley, Medicine Trolleys, Patients Stretcher Trolleys, Hospital Instruments Trolleys, Stainless Steel Linen Trolleys, Hospital Multi Purpose Instruments Trolleys and many more items from Sri Lanka.
Stainless Steel Letter Boxes Fabrication
Choosing a Stainless Steel postbox from our range gives your home a modern and sophisticated feel and with our large choice of different elegant styles you will ensure you will find the right product to suit your needs.
Steel Company Logo / Name Boards
Prominent & Leading Manufacturer from Colombo Sri Lanka, we offer stainless steel various designs letters, mirror finished stainless steel letters, stainless steel numeric letters, stainless steel alphabetic letters, stainless steel Sinhala letters, stainless steel Tamil letters, stainless steel name board – house using and stainless steel letter light signage.