Stainless Steel Kitchen Canopy and Exhaust Hoods
in Sri Lanka
We provide commercial extract hoods & systems that can revolutionize
your commercial kitchen
Having been providing  Stainless Steel Kitchen Canopy and extraction systems for hotels and restaurants for over 14 years, Silver Tech is the best choice for your kitchen extraction needs. If you can not find the quantity you are looking for, contact us, and we will tailor it to your needs. Our commercial kitchen extractor hoods and Stainless Steel Kitchen Canopy are great looking appliances. But more importantly, they are reliable and can be counted on to do the job well. The importance of extraction hoods that help keep your kitchen clean should not be overlooked. Completely odorless and smoke. We install the pipeline and exhaust fans according to the client's requirements. We manufacture aluminum kitchen canopy, aluminum kitchen hood, aluminum duct for industrial kitchen, commercial kitchen, restaurant kitchen, hotel kitchen, and residential kitchen.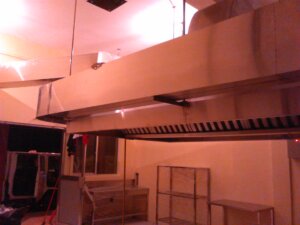 All of our Stainless Steel Kitchen Canopy are made entirely of 1.2mm stainless steel and are manufactured to the highest standards and quality. We manufacture wall-mounted and island type canopies and also dishwasher/condenser type canopies. A stainless steel canopy can be made in several parts for a kitchen with a narrow or stable entrance. We provide stainless steel baffle filters and removable drip trays for our kitchen canopies. We can offer prices for aluminum ducting and exhaust fans if desired.
High quality stainless steel kitchen canopies manufactured in Sri Lanka.
Supplied with easy to clean stainless steel baffle grease filters.
Built in grease traps to enable easy cleaning.
Manufactured in line with DW/172 Specification for kitchen ventilation systems.
Canopies manufactured to custom sizes if required.
Canopies manufactured using alluminium if required for low budgets.
Lights are an optional extra and are not included as standard.
Fan and ducting not included with canopy. It is optional.
Leadtime is approximately 2 weeks.